Breast Surgery Healing and Everyday Comfort Bra
Indulge in Soft Comfort – Organic Cotton, Wireless Bra
Discover the ultimate in bra positivity with BraLisa's unmatched comfort and support. It's perfect for women healing from breast surgery and those seeking an everyday bra. With a front closure, wide straps, and full back coverage, our bra feels great – all day long. And it's flattering to wear!
BraLisa is women-owned and women-sewn in the US by skilled sewers in rural Pennsylvania.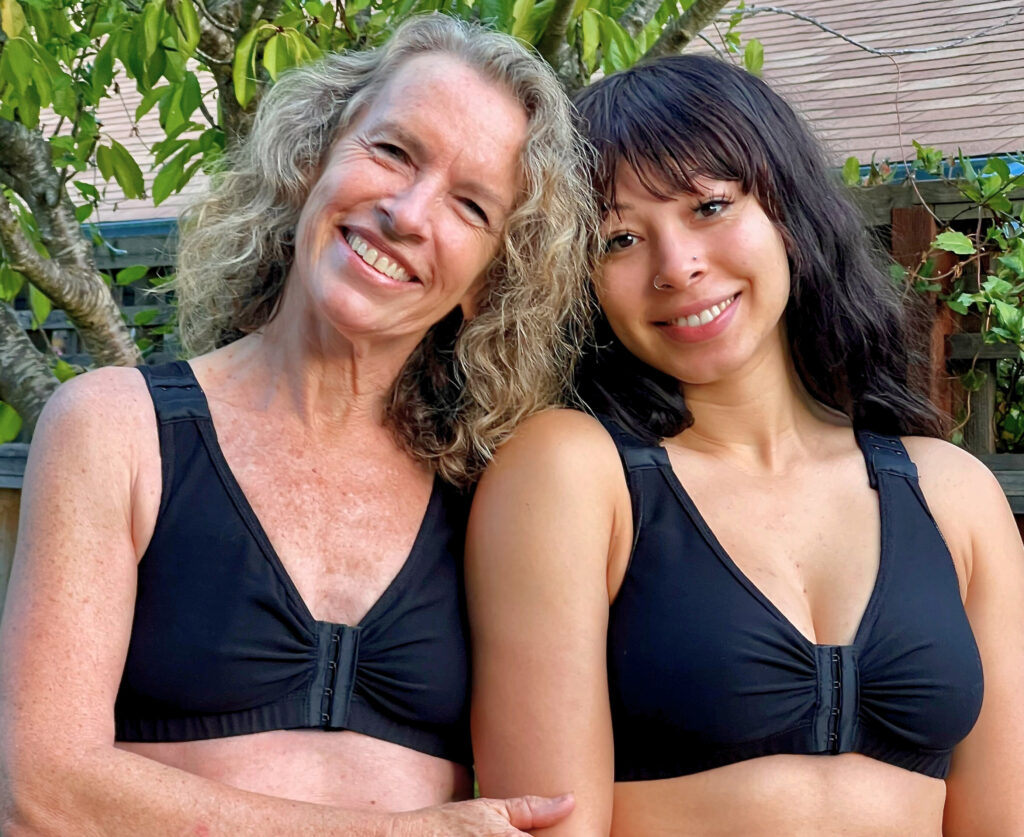 BraLisa Promotes Deep Healing After Surgery
Breast surgery for women is like none other. The breasts embody so many intimate feelings, emotions, functions, and history. That's why women's post-op experience requires the utmost care and compassion. BraLisa can help.
Comfort is key
"This is the first time I have worn a bra in a month since going through radiation after a double mastectomy. I was able to wear it all day. Usually, the first thing I do when I come home from work is take off my bra but, because I was so comfortable, I didn't even think about taking it off. I didn't even realize I still had it on until I went upstairs to shower. I was shocked that I had not snatched it off and slung it somewhere." – Chloe, our first client
We created BraLisa to positively contribute to women's lives as they heal from breast surgery. And it's working!
"I just had breast surgery and was given one of your bras for recovery. I ABSOLUTELY LOVE IT!" – Rose
Over one million women in the US each year undergo some type of breast surgery. This includes a biopsy, lumpectomy, breast reduction, breast lift, breast augmentation, implant removal, mastectomy, and breast reconstruction.
After surgery, many of these women can optimize their recovery by wearing BraLisa. It's gentle on the skin and doesn't irritate incisions. Organic cotton fabric and moderate compression cradle breast tissue to promote deep healing.
But…You Don't Need to Have Breast Surgery to Wear BraLisa
Are you done with…
Itchy, synthetic fabrics that don't breathe and make you sweat?
Stiff and poky underwires that pinch and leave bruises?
Neck and back pain from skinny straps that cause permanent indents?
BraLisa is your bra for life!
"Gotta say that when I want to feel cozy and still look good, it is my go-to bra. It looks as good as it feels too – which I definitely can't say about the sports bras which just give me the uni-boob. It is the answer! – Li
If you're healing from breast surgery or looking for an everyday comfort bra, there's nothing else like it.
PURE ~ SOFT ~ INDULGENT
Buy Experience for yourself the perfect mix of style, comfort, and support.
A Bra Revolution
BraLisa joins the post-op bra revolution with a bra that women like wearing all day and at night. Made of soft, organic cotton, it doesn't cause scratchy skin rashes like synthetic fabrics can. Our bra is so comfortable that some say they forget they have it on. Learn more
Bra and Body Positive
Say good-bye to uncomfortable push-ups, push-ins, and squishy minimizers. Say hello to extreme comfort – front hook closures, wide adjustable straps, and no-roll band. Rock your bra positivity. Feel relaxed and confident in all you do without uncomfortable bra distractions. Learn more
From Patient to Entrepreneur
When BraLisa CEO, Lisa B., had breast surgery, she struggled to find a bra that didn't cause her pain and discomfort. Her interviews of women after breast surgery confirmed that these issues are universal. Determined to make a difference, Lisa B. and co-founder Lisa F. created BraLisa. Learn more
We Care about Climate Change
BraLisa uses eco-friendly, organic cotton fabric. The cotton is grown without synthetic toxic pesticides, fertilizers, and GMO seeds. So, it benefits people and the planet. We use recycled packaging and zero plastics. Our low carbon footprint protects the well-being of future generations. Learn more