Post-Op Bra for Life
BraLisa has joined the bra industry revolution. Our silky-soft, supportive bra enables women to relax and heal after breast surgery. Let BraLisa be your partner in improving your recovery experience.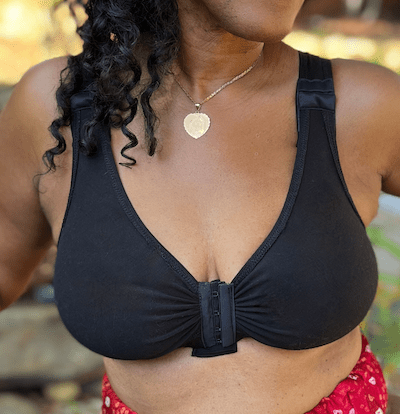 Made in the USA with organic cotton fabric and a hint of spandex for moderate compression
Wide, adjustable straps meet the needs of differently sized women
Seamless cups protect nipples from rubbing on harsh seams
Elastic band under breasts does not roll
Front closure makes it easy for nurses and wearers to fasten the bra
Seams sewn on the outside of the bra never irritate incisions
Full back coverage minimizes shoulder, neck, and back pain
High under arm coverage protects scars from rubbing on clothes
Wireless, of course
Flattering to wear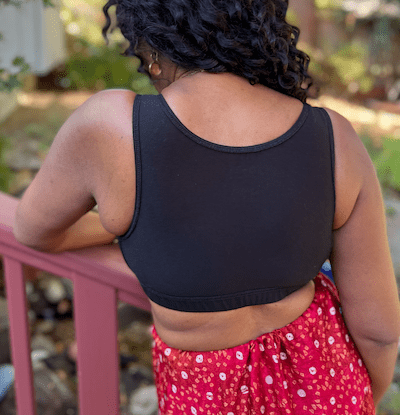 You can comfortably wear BraLisa all day, every day, and at night.
"We love the design. It's a pretty and comfortable post-surgical bra that can be worn as a nocturnal support bra as the patient transitions into tolerating more containment." – Nurse, Cancer Outpatient Rehabilitation Center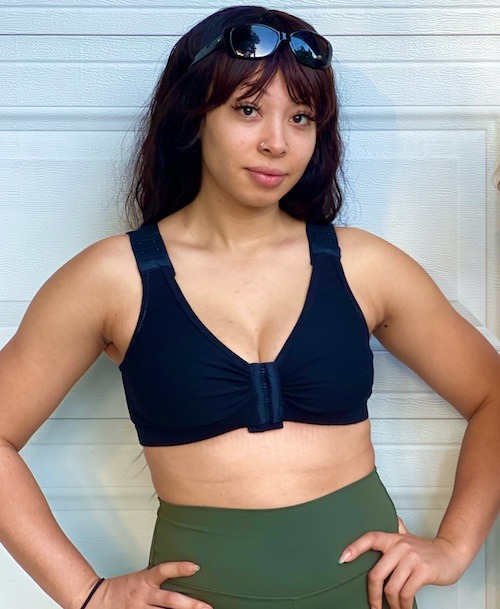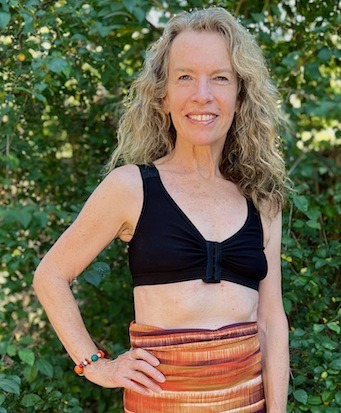 BraLisa is available in black in the sizes below:
| Size | Band Size | Cup Size |
| --- | --- | --- |
| Extra Small | 23 – 30 | A |
| Small | 32 – 34 | A/B |
| Medium | 36 – 38 | B/C |
| Large | 40 – 42 | C/D |
| Extra Large | 44 – 46 | D/D+ |
If you are a doctor and you'd like to have your patients try BraLisa, contact us. We'd be happy to talk with you about the many reasons why BraLisa is by far the best choice for your patients. We also do live video demos.
Post Breast-Surgery Bra Revolution
Most post-op bras are made by large medical supply companies overseas. They use synthetic fabric, which can irritate nipples, breasts, and any place where it touches incisions. The unlined elastic band under the breasts can cause painful skin reactions too.
Few women have good things to say about wearing a bra. For those who have had some type of breast surgery, it's even worse. BraLisa's research, confirms that finding a comfortable post-surgery bra is impossible. And, women regret not being able to find a suitable option to ease their healing
The last thing women need is more pain from their recovery bra.
Women Deserve Better
We created BraLisa to contribute to the post-breast surgery bra industry revolution. After hearing women's repeated complaints about bra comfort, we decided to change that. BraLisa has removed the irritations found in standard post-op bras.
Now women can focus on their recovery in a bra that supports their power to heal.
"My new bras are so comfortable. No seams going across the incisions, no rolling up under my breast. Simply Amazing! I've always said if you want the job done right get a woman, in this case two amazingly talented women. I'm so glad my daughter knew about your company, or I'd still be wearing the hospital one." – Eva